I missed my Monday round up cos I had an incredible busy weekend and two days at work plus I have been so pissed off my knitting.
This is the sock from hell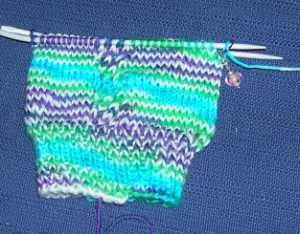 I didn't even have an inkling on Friday that I'll be knitting this. In fact I had settled in to finish off the two sleeves for Plaza. I'm happily knitting on Plaza on Friday night and finished the first two balls. Happily trotted along to my stash boxes to get another two balls when I remembered! This lot of stash was in my mum's house ( the other hiding place from DH ). Uh ok - let's just work on something else. Like I have a ton of projects on the needles right.
Ok so I take out the
Dublin Bay opal socks
I was experimenting with when DH said "Oh I didn't know you could knit socks!" which is an underhanded way to sya that he wanted a pair. He didn't like to Opal colorway I was working on so back to the stash box I went.
He liked the Lorna's Laces Hawaii Shepherd Socks. So I happily casted on 72 sittiches as per the pattern and was chugging along nicely. The stripes were perfectly in place and straight. See how it's winding its way up at the moment? I'll let you know how it got that way in a minute.
Anyway, it was now Saturday and I was going to my mum's until Monday so I carried on knitting on the
Hell
Hawaii sock. 6 inches were done and I placed it against my DH's foot when we both realised this is one humungous sock. checked my needles and horrors! it was 2.75 mm not 2.25mm as specified by the pattern.
By this time, we were due to go for dinner at DH's cousin's and I really did not want to bring any knitting there. I'm still not brave enough to bring knitting to family functions especially when there was a whole bunch of cousins - in law whose names I don't quite remember.
Anyway back from dinner at about 10 pm and on to rip rip rip! I was so tempted to start the sock again on another yarn (Lorna's Laces Motherlode) when I remembered I wanted to use that yarn for something else (meaning some thing lacey for me!) And at this point I am so determined to beat this Knitting Murphy's law karma if it kills me. So I casted on 60 instead.
By the end of Sunday evening I had got most of the cuff and leg done and was moving on the heel flap. That in itself was an exercise in fractional mathematics most of which I kind of gave back to my teacher at the end of secondary school. Plus it didn't really help when the pattern was describing needle 1 and 2 and I'm using circs.
Still I divided for the heel and then did about half of the heel flap before calling it a night. The next day I was going off to my mum's for dinner and to pick up more balls of yarn for Plaza. I told myself I would concetrate on the sock on Monday before carrying on with Plaza on Tuesday. I'm never going to meet Friday's deadline but if I can show my sister one back and two sleeves at least she won't think I am slacking off on her. After all she did send me the yarn about a year ago.
So on Monday night after coming back from my mum's, I carried on with the heel flap and stopped to look ahead and do some calculations on the short rowing.
I am suppose to knit 20 stitches before I SSK and turn based based on having 36 stitches on the heel needle (which is half of the 72 stitches casted on for the whole round). So since I casted on 60, I should pick up 20 / 36 x 24 stitches which is the amount of stitches I had on the heel needle.
It was several minutes before the penny dropped. I guess all you experienced sockknitters can spot the mistake.
Needless to say I've ripped the heel.
And that is why this is the Sock from Hell. Thank God I won't be working on it tonight.
Oh by the way - I think I'll skip the Monday round up for today.
Just wanted to also say I had a lot of fun last Thursday meeting up with Pauline and
May
. Check out May's and
Lyn's
blogs for the details.