Finally finished one LL Hawaii
Dublin Bay
Sock.
Tried it on Dh and the conversation goes :
DH: " Hey there's holes!"
Me: "It's just lace, dear"
DH: "And it's such a girly green!" *looks into my knitting bag and takes out my hoarded ball of LL Motherlode* "Can I have one in this purply yarn instead?" *pause* "With no holes? And lots of ribbing?"
Me: "Grrrrr!"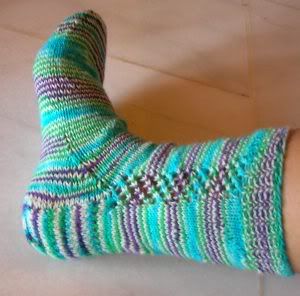 Showed it to my sis and the conversation goes
Sis: "Hey cool!"
Me: "Do you want it? I'm working on the other pair"
Sis: "err... umm.. why don't you keep it for when you come and visit me in NZ?"
Me: *thinking haven't been to NZ in 10 years and not likely to visit in the next 10 years* "Grrrr!"
But seriously I am glad that this pair is ending up with me - I've grown to like it. I'm not too happy with the toe, and the way the striping doesn't go all the way around but otherwise I've sweated too much over it not to love it.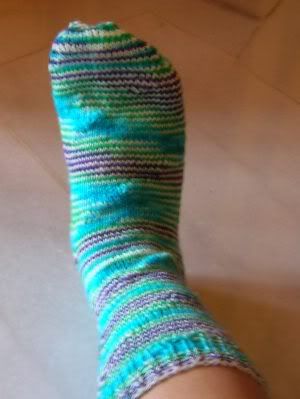 The next pair of socks I want to make is
Marnie's toe up socks
- as soon as she posts the pattern.
--------------------------------------
I had a great time at
Jackie's
seaming party last Saturday. I can't remember the last time I had Sticky date pudding but I know I must have it again soon. Absolutely yummy. What have I been missing all these years?
You know after that seaming party, I went home and dreamt squares. I have to take my hat off to Jackie's discipline and endurance to be able to produce so many squares and to stick by a project for almost that long. Way to go Jackie!
--------------------------------------
So on to my monday round up one day late
*Updates are in bold red*

Lacy Tunic from Rebecca 28
Jaeger Trinity Violet :- one back done
Green Lacy top from Japanese Magazine
Marks and Kattens Bianca :- one back done - to be frogged
Bracken Tweed Cardigan for my sis - one sleeve done
Fiddlesticks Lacy Lattice Stole
Filatura Di Crosa Kid Mohair - 30% done
Pseudo Gansey from Japanese Magazine
Filatura di Crosa Zara :- one front and one sleeve done
Pink Grapes from Japanese Magazine
Yarnart Summer Cotton :- Two sleeves done
Plaza from Rowan Classic Cafe
Cleakheaton Country 8 ply - one back done
*Almost up to the shoulder shaping on the humungous two sleeves at once. I hope to finish the sleeves by Friday*

Fiddlestick Lotus Blossom Shawl
Cherry Tree Hill Merino Laceweight Dusk- less than 12%
* Up to Row 83 - that's 166 stitches*
Crochet Flower Vest
Online Linea Sandy - 35%
*Finished off two balls - only 2.5 balls to go*
From the comments -
Jessica - there is no way to get any roving here in Malaysia - the only source is to get it online from AUS, NZ or US
MJ - My sis lugged 6.5 kg of this spinning wheel back from NZ for me.
Celia - I'll try to post the embarassing close-ups of my bad bobbins of yarn tomorrow.