I don't mind knitting in a round when you have 60 -70 st and only 7 - 8 inches to knit - as in a sock. But when I have 400 st on a needle I am just about tearing my hair out.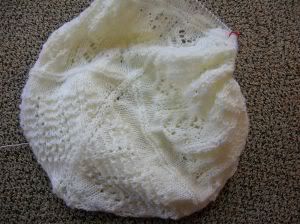 I don't even know how to take a picture of this "thing" . All I know is that I took it off the needles the other day to men a mistake ( Thank God for lifelines!) it measure only about 14 inches across. That's small for a baby blanket don't you think??
I am at the shell pattern that forms the final edge of the shawl but my calculations tell me that I am only about 50% of the way through in terms of stitches which does not always mean that the shawl is 50% the finished size. Go figure.. I've got a headache now.
If you want to check out what this shawl looks like finished , you can have a look at
Polly's
.
Being the ADD knitter that I am, here's what I started a few nights ago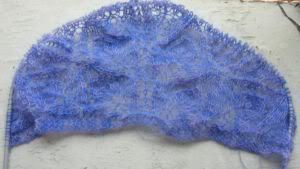 Frost Flowers and Leaves from GOL - the triangle version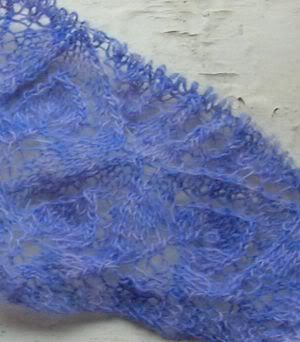 You can see some leaves and the beginnings of the frost flowers in the middle.
I am refusing to do this in a round but if you want to check a beautiful square version - go see
Eunny's.
She made her's in 16 days. Mad huh!
As for Salina - there's been some talk about a Trinity Knitalong on the
Knitters Community board
so I'll post details soon.