I was home early yesterday and managed to get some of the evening sunlight to take a photo of the skein I dyed last month. I wound it up in cakes and look - it transformed!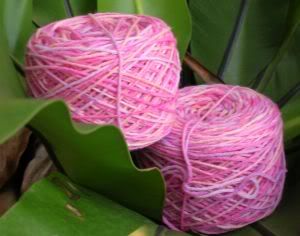 That's my favourite plant
I am changing the name to Mandarin Plum Blossom.
I did another lot of dyeing yesterday using Kool Aid and a bit of Pebeo Seta dyes this time and yes the colours are more intense. The skein is now hanging to dry but I didn't get a chance to take a photo this morning before I left the house. Just as a hint to its colourway, I'm calling it Blue Mango.
The other colourway playing in my mind currently is one called Lemon Lime Rose - I just need to get the right dyes for it.
I'm still plugging away with the Sampler Stole now doing the 1st Border. Erin and Mimi, the border has 168 rows of lace with NO repeats which is proably why it's called a Sampler. Boredom should not be a factor at all.
TRI - KNIT-Y KAL
We have some more participants
Maryann from Hong Kong
kttyvioleta
from Singapore will be doing
Lelah
Dor, also from Singapore, who is blogless I think.
Lois
will be joining us a little later.
Yay! I must think of some activity to start us off on 1st of April.