It's been 14 days since my last yarn purchase! That does sound a little bit like confession but I am proud of the fact that I paid for the last yarn purchase on the 28 February and not bought anything else since then. I've decided to stashbust at least one more project before I buy more yarn.
Ironically just as I decide this I have been tempted sorely by Jaeger's new yarn
ROMA
and by wanting to get more laceweight ( why? why?) because I don't have enough in my stash to finish the Frostflowers & Leaves shawl.
In the interest of stash busting, I felt it's time to dive into my hoard of Jaeger Trinity. I have about 2 wips that I have started on Trinity. First, the Lacy Tunic from Rebecca 28.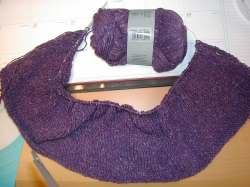 I did the whole back and then got distracted by other projects and now, well it's kind of dated, isn't it. Plus the tunic is humungous and I don't think I can face doing the front. The second was the beginning of
Deli
but I miscalculated the gauge and realised it after a few inches.
This time I am determined to do something with my hoarded Trinity and since Lois was calling for pattern ideas on the
Knitter's Community Forum
(an asian based forum), I thought we should have a Trinity KAL.
Trinity is one of the best yarns of our weather because the knitted up fabric is extremely lightweight and cooling, something you need when you live in perpetual summer. It can stand up to some lace and some minimal cables. You can sub it if you want to jazz up a plain top with a bit of texture. Or you can use it for a pattern with a tweedy look and you don't want to use wool.
Caution – the fabric is very drapey. Trinity will not be suitable for patterns with lots of cables if you want the cables to really pop. Nor for jackets and cardigans that need some stiffness or fullness. I would imagine that lace, bell sleeves and summery tops would be great.
Jaeger Trinity patterns suggestions
Free
Honeymoon cami
Picovoli
Drops 88-2 Lacy Cardigan
Élann lacy cardigan
Soleil
Not Free - Online download – instant gratification
Ribby Shell
Chickami
Silk Ribbed Corset
Somewhat Cowl

Something Red
Not-so-shrunken cardigan
From Magazines / Books
Rowan Vintage Style
Elise
Salina
What others have done with Trinity

Eunny's Hazel
Champagne Bohemian's corset
Erin's Michael Kors Aran Sweater
How to Join
The start date for this KAL is 1st of April 2006 and will go on until there is still some interest. Email me at knitnut@gmail.com if you want to join in with your name, proposed pattern and your blog address (if any). At some point I will start up a new blog for the KAL and perhaps a new yahoo or google group (time permitting).
I just need help with a button so those of you who artistically inclined, you are most welcome to design some buttons.
If you can't join at this moment in time, you can still send in some pattern suggestions - part of the fun is visualizing yarn substitution and providing some resources for this most versatile yarn.
So let's Tri -Knit -y!