Welcome to my latest obsession! Yes I have done it again. I'm in love with a most impractical cardigan and am actually considering joining in the
KAL in January
.
Have a look at the Cardigan
here
.
I picked up the book on Saturday and now I'm scouting around for some suitable yarn. I'm trying to steer away from wool for obvious reasons but I'm not sure what type of other blends would be suitable. I'm torn between Jaeger Trinity in Hibiscus or Violet which I have in my stash and this
really good deal on eBay
.
What do you think?
I have actually finished the Cotton ease T shirt but I haven't weaved in the ends and blocked it yet. I am hoping for it to grow another couple of inches lengthwise during blocking. It's a bit short for my liking.
Meanwhile I've been plugging away at my Samus and the Picovoli. I'll have to take a pic of the Picovoli as I'm doing something a little different with it. And it's looking real good.
Until then, here's what arrived in my mailbox on Friday after a very long wait.
Zephyr!!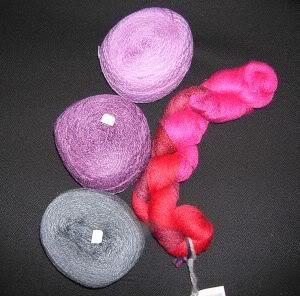 From bottom - Charcoal, elderberry and lilac. The one on the right is Martian -handpainted colourway from
Furryarns
.
More pics tomorrow.