I decided to chuck the corset into the bin of "I hate this and I don't want to know about it". The idea of a gleamy shiny little red number themed with a black skirt for New Year's Eve dinner was very appealing but tha yarn does not cooperate.
The ribbing is awful - the knit stitches are flared out and the purls are sunken. The lace pattern is not defined. The last straw was when I started the criss cross motif on the body, I could hardly see it from being blinded by all that reflection from the viscose.
So last Friday after a heart to heart with
Lyn
, I decided to either (a)restart with Jaeger Trinity or (b) start on
Picovoli
.
I did neither. My stash of Trinity was at my mom's and I didn't have anythign suitable with me to start Picovoli. Can you believe that I have no Dk weight Yarn handy??
So I started on
this instead
.
Here's my progress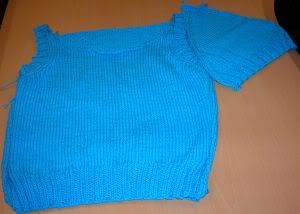 I shortened the sleeves because I wanted a simple top I could wear with my jeans.
Thank goodness for Cotton Ease. I really like this yarn. It's soft without being too soft and I can see it standing up to many cables. The pattern has these armhole ribbed inserts which are quite interesting. You could actually leave out the sleeves and make a tank. That's an idea for another project and another day.