I was tagged for this months ago but really didn't have the time to answer so i thought I'd better get a move on before the year passes.
1.What is your all-time favourite yarn to knit with ?
I like cotton yarns with a but of acrylic in it - like All Seasons Cotton, Sirdar Breeze, Cotton Ease. I don't quite like mercerised cotton so the acylic cotton makes it spongier and easier to knit with plus the definition is great.
For wool- merino always.
2. Your favourite needles ?
Addies for normal knitting and for lace, anything with pointy tips. I've been using a pair of Inox express needles for socks and I like them. No bambos and no DPNS please.
3. The worst thing you ever knit
hah ! here's the fun part. I came across this photo while I was cleaning out my desk at my mum's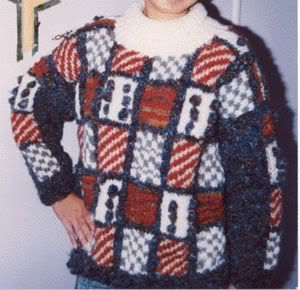 The things we do in the 80s!! I sold this knit actually - someone actually paid about $75 NZ for it.
4. Your favourite pattern
I had a major lace kick and I have to say that Fiddlesticks Lotus Blossom has been my favourite lace pattern to date.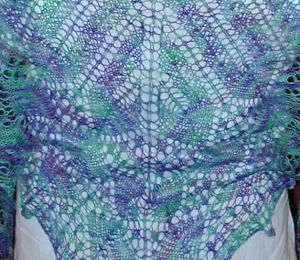 5. Most valuable knitting technique
Magic loop - without it I would never have finished a pair of socks.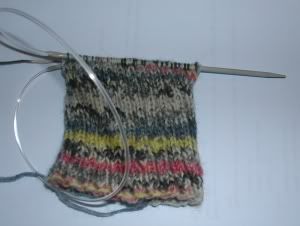 6. Best knit book or magazine
Too many to mention. I like a lot of japanese magazines and some of the older rowan mags. I took a long time tracing down Rowan No 33 that had a lot of summery knits I like and oh yes, I have to say I like almost all of the knits in Phildar Ete 2005.
7. Your favourite knit-along
Here's the thing about knitalongs. It's becoming apparent to me that there's a fine line drawn between knitalong and copycat. Millions of patterns out there and yet some blogs look almost identical. When I join a knitalong - it's more for the comments,mod suggestions, yarn choices, and I never seem to start or finish within the deadlines. However I enjoyed designer knitalongs like the Fiddlesticks one.
8. Your favourite knit blogs
Well look at my side bar - these are the ones I check everyday.
9. My favourite knitwear designer
Kim Hargreaves, Annie Modesitt, Knit n Tonic's Wendy, some unknown japanese designer from the let's knit / elegant knit series....
10. The knit item you wear the most.
I waer this in the office quite a bit. (psss that's not me, that's a passing colleague I snagged to model for me.)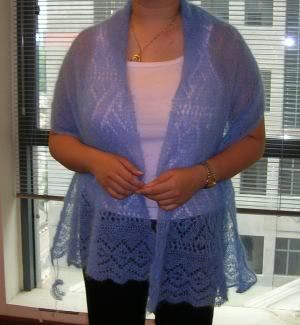 11.Who to tag?
Ok no more - it's going to be 2006 - time for new memes.