Before I go any further - here's the first look of Ioan Gruffudd as Mr Fantastic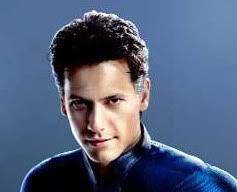 Read the
full article
plus pics of the other members of Fantastic Four, Sue Storm (Jessica Alba), Johnny Storm (Chris Evans) and The Thing (Michael Chiklis). I must say Jessica Alba looks very 'de-lish' as a blonde.
Way to go Ioan!!!
Ok Back to knitting - The tunic-along button is up and more information can be found at
Consomme's
. This is my first Knit- a-long and I am not sure how to proceed so do contact Consomme and she'll set you on the right path.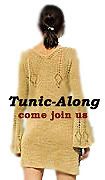 Pattern: No. 42 Tunic with Lace Pattern
Source: Rebecca #27
Recommended Yarn: GGH Safari
Gauge (10cm square): 20sts x 30rows
Completion Date: no time limit!
This is my progress so far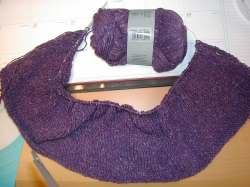 Such a nice Tweedy violet. The yarn is not the smoothest but I love the finish as the tweed does forgive a lot of imperfection.

Consomme showed how to knit continental style and I have been alternating between two as I do find my hands getting very tired after a while knitting english. Continental seems to be less taxing so I am determined to keep at it until I come up to a reasonable speed.
We had a great SnB at Starbucks. It was a quiet night so we had a nice cosy corner with two big comfy armchairs. A little 5 year old girl kept coming up to watch us but she ran away when Consomme asked if she wanted to learn.
Next week we are contemplating changing locations so
Doreen
, another KL knitter can join us. AND getting her to join our Tunic along.