I promised pics of my stash purchases this month.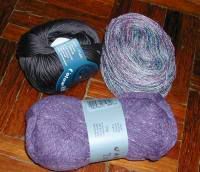 From top left - DiVe Cotton in Charcoal, Unusual Yarns blend, and Jaeger Trinity in Violet.
I met up with
Consomme
and poured over her Rebecca magazine to see if any of the yarns would suit the
Apricot Jacket
. Alas I need an aran or worsted weight yarn instead of double knit. So I went trawling along the web today to look for a good deal on either Rowan's All Seasons Cotton or GGH Java. Alternatively
Elann
has Jo Sharps Desert Cotton which seems to be the right weight but I didn't like the colours in stock. In any case I must restrain myself from buying anything until payday end of the month.
Anyway Consomme and I have decided to start up a SnB with just us two every Thursday and we're going to knit in our local Starbucks. Who knows we might garner some more knitting enthusiasts that way. We've decided to start a knit-a-long ( yes with just us two, as well) - to knit the Lacy Tunic from the same Rebecca magazine.
I'll be using the Jaeger Trinity for this AND (being ambitious here) we're going to shorten the tunic at least 20 cm. I'm only 5 feet and the 80 cm length stated in the pattern would reach to below my knees.
The question is - do we start off with the same number of cast on stitches and figure out the rate of decrease to get to the same number of stitches in the pattern after the decreases or do we figure out the number of stitches from where we want to start and continue to do the decreases in the same rate as stated in the pattern?
So wish us luck while we try to figure out the pattern and the dimensions and hope to God we don't botch things up.
I've finished both the back and front of the Shapely Tank. I had to frog the arm holes decrease once cos it didn't match the front. Let this be a lesson - Never watch the Malaysian Idol results show while knitting.
Once it's blocked I'll post a pic. Silly me, I didn't realise that I could do the sleeves as well and make it a Shapely T. So will be casting on for the sleeves tonight.