You never know what you can find at your local Tesco's supermarket. I went on Monday to get the fortnightly stock of diapers and cream - and stopped at a small section for sewing items. I found row markers, stainless steel pins, and several INOX knitting needles.
In other parts of the supermarket (or hypermarket as they are called here) I found very cheap towels and foam core board. And voila, I have a blocking board.
Okay so it doesn't have any measurements but it's good for the first try. I'll have to look out for gingham next time I pass by a fabric store.
Thanks goodness for Tesco's.
Oh and I didn't get the diapers I wanted because they were having this freaking contest where one had to buy TWO large packs of 72 to enter to win RM 1000 shopping vouchers. Apprently there was a bit of a run on the diapers ( pun NOT intended) and they're out of stock for the day!!!
So I had to buy a more expensive brand instead!! GRRR!
So hopefully all pieces of the Shapely Tank will be blocked in time for the Seaming Party with
Consomme
tomorrow night.
After last night blocking, I thought to take a break from the green lacy top and took out what Consomme and I call the "funny yarn". I like the colours and the texture but it is a bitch to knit on 4 mm needles cos there are so many strands to keep track of. So I thought I'd try making a lacy scarf with 6.5mm needles,using
Madeira Cascade Lace Scarf
free pattern from Crystal Palace.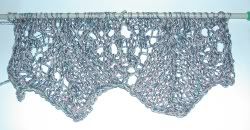 4 panels of this and I have a lacey stole.
Seriously the yarn is super soft and silky, if you can get over the multiple strands.