I have decided that next month's stash will be devoted to lace.
I know it's only the middle of the month but once I come back from Bangkok I don't think I will spending on anything except for the bread and water I have to eat everyday.
I have Cherry Tree's lace yarn on my Watch list on eBay for the longest time and now I have found some nice handpainted lace yarn from eBay sellers Lotus blossom and Serendipity. Plus a source for handpainted
Zephyr Jaggerspun
. So watch out, November, it's lacey time.
I've finish one panel of the Madeira Cascade Lace shawl - 36" long. I plan to join another 36" panel to make the shawl a 72" stole. I thought of adding 2 more panels to the side to make it broader but have decided I like the width the way it is.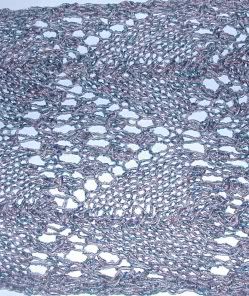 It's turning out to be such a unique peice of work, very very soft and the yarn has a nice sheen to it.
Tonight I shall decided which project to bring to Bangkok with me - the Cute Patootie or the Lacy top. I'll try to report from bangkok if I find a nearby Internet cafe.