Oh I had a great time on Saturday with
Consomme
. Hubby was on a treasure hunt to Penang and my son stayed home with my aunt so I had the whole day to natter about with Consomme.
We first visited another yarn store in the vicinity but I didn't see anything I liked there Except for a Katia 100% wool aran weight yarn which would be lovely for the Rebecca Cardigan. The colour was nice but I was hesitant because of the wool content. So I decided not to get it.
Then after a bite to eat, we went to Brenda's to check out her new Online Sandy and Japanese Half Cotton yarn. I was dying to start this
pattern-
and after much deliberation, I chose Mark & Kittens Bianca in a fresh mint green. Needless to say, I had to start right away. So we sat at Brenda's for a good part of 2 hours to knit away and chat.
Here's my progress after two days:-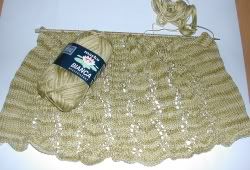 And here's a more detailed look at the lace pattern.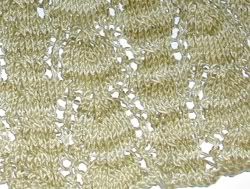 I am just crazy over this project and I can't wait to finish and wear it.
We decided to have a coffee so we went off to the nearby Starbucks to have a coffee and another hour of knitting before we went our separate ways.
What a satisfying Saturday it was. There's nothing like another knitter to encourage and enable, especially in the yarn department.
My mum came back on Sunday with a little suitcase full of yarn for my sis's 2 cardigans. I'll take some pics of that later tonight.