We took our son Gregory down to his Grandparents place this weekend and he's staying there for two weeks. Mummy is not happy :( !! but Daddy thinks he should spend as much time with both sets of grandparents as posssible.
He actually enjoys being at his Kong Kong and Mama's place but the first few days are really tough for me.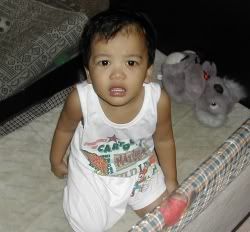 Here's Greg just up from his nap in the playpen before we left - he always has this really funny sleepy and grumpy look when he just gets up and he totters around for a minute or two until he gets his bearings.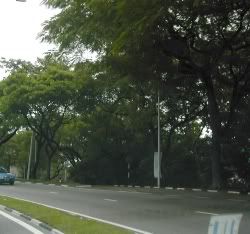 It was a cool-ish day - about 25 degrees Celcius and the trees look especially green and shady.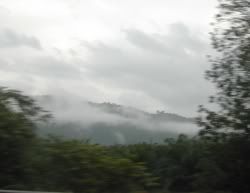 It got colder and rainier as the day went on and the hills were misty with low lying clouds.
We got to Melaka which is about 150kms away from where we live - without any mishaps and Greg settled right in with his beloved Kong-kong (grandfather in Chinese), although he did wake up crying for Mummy and Daddy once during the night.
While Daddy was watching the soccer game - Mummy was busy seaming up the Cute Patootie.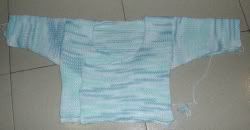 I didn't get the sleeves absolutely aligned so I have to rip that out again - currently the back is longer than the front.
Using the mattress stitch recommended by
Consomme
and
Froggy
, seaming was a breeze. Thanks gals for your helpful tips.