I have been quite productive knitwise yesterday. Despite coming home at 9.00 pm after dinner with friends, I managed to -
1. Wind this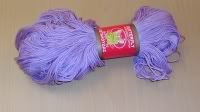 into this.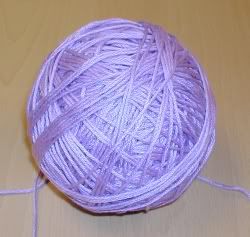 It's the Butterfly SuUper 10 Cotton which I hear is sold as Tahki Cotton Classic in the US. I have decided that
Anouk
will be Lilac and cream, instead of Cream and pink.
2. Finish seaming Cute Patootie - all ready for the crochet edging tonight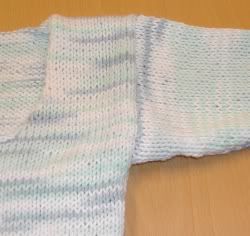 3. Start on a mini
Clapotis
with leftover Patons bumblebee. The ladder stitches in Clapotis had intrigued me and I just felt like I had to try it out. I made it narrower than the original.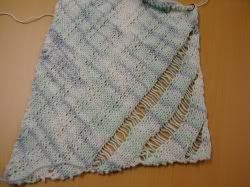 Click here
for a closer look.
My fear is that this has to be severely blocked 'cos some major curling is happening at the edges.
What started out this buzz of activity is the lunchtime yarn shopping with
Consomme
. We just thought we'd "check" out this yarn store that was in a shopping all near my office.
Well! We sure checked it out. We were pulling bags and bags of yarn off her shelves and piling it on her table. I ended up buying more cotton - a Japanese brand with a nice gold sheen and 3 balls of Katia Mississippi for my next Clapotis.
This bag of yarn is still hiding in my car - I'm starting to hide yarn - not only from DH but from myself too. I am afraid if I put it in the stash room with the yarn - it becomes a legitimate purchase.
So I think it will stay in my car until Friday (Payday!) so I can say that I bought it next month. Yes - mixed tenses - but hey I am already bordering on obsession so who cares!